The dog dies. I'm about 20 minutes into Asobo Studios latest release,
A Plague Tale: Innocence
, and an idyllic hunting trip through the verdant French countryside took a dark and sudden turn. Our hero is Amicia De Rune, a 14 year-old French noble whose hunting dog, Lyon, ran off after a boar and ended up trapped in a black, pulsating quagmire. Lyon struggles, whimpering briefly, before he is devoured by the crevasse. Amicia's father draws his sword and commands her to run to the house. The horror won't stop for Amicia once she gets home. Things only get worse from here.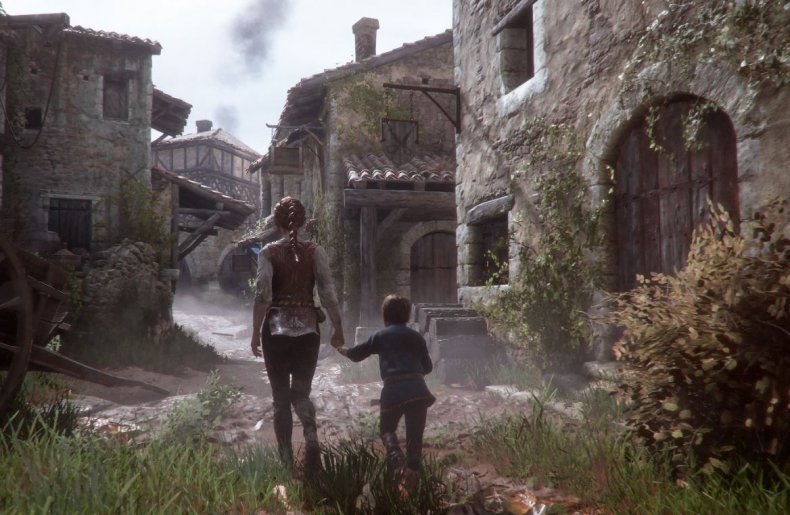 What doesn't get worse is the atmosphere, narrative or gameplay in
A Plague Tale
. It is a perfectly-balanced single player experience, a rarity in gaming these days. There's still plenty of single player content, but little comes close to feeling this fully realized. Everything, from the voice acting to the mechanics to the music and visuals, is tied together in service of Asobo Studios vision for a story about two noble orphans and their search for safety, and truth, during one of humanity's darkest timelines.
Amicia soon discovers it is a plague of rats that killed Lyon, thousands of them, and they show no signs of stopping. Paranoid Inquisitors storm her family's estate, demanding custody of her brother Hugo, a five-year-old boy suffering from a mysterious illness. A menacing knight in black armor, studded with spikes because he's the Big Bad, kills Amicia's father. Soldiers begin killing servants and looting the estate as Amicia, Hugo and their mother sneak their way towards an escape. Their mother doesn't make it, leaving Amicia to hold Hugo's hand and set off for help.
This is where you get introduced to the stealth basics for
A Plague Tale
, which largely revolve around tossing rocks or clay pots to distract guards. It's a bit basic to start, but soon the game introduces crafting elements, including various alchemical potions, which ups the complexity. The guards are fairly predictable, but sharp enough that it isn't a cakewalk. Amicia is no fighter, either; get caught, get killed. She only has a sling to defend herself, which is largely useless in combat but can do a lot when it comes to solving environmental puzzles, which are the other major system at work in
A Plague Tale.
And this is where the rats come in.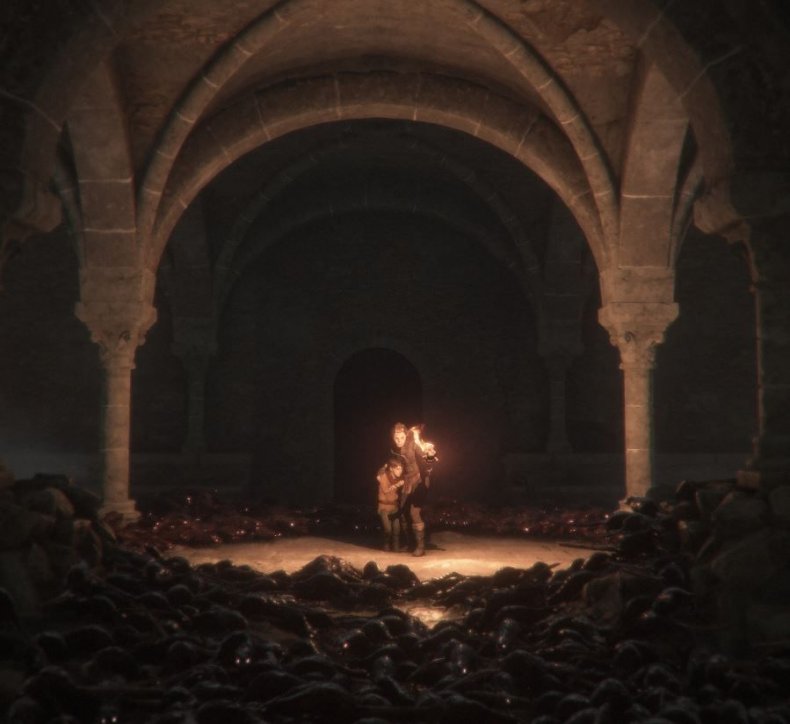 As Amicia takes Hugo on a quest to cure his disease (and uncover the dark magic that connects him to the plague) she will have to navigate a world dominated by the rats. They scatter when light hits them, so much of the early strategy is in lighting and extinguishing torches to create safe passage through seas of rats. But
A Plague Tale
surprised me with how well it built upon this system, and you'll soon be using rats to dispatch guards or solving complex puzzles that involve crafting the right alchemical arsenal (you can reignite torches, lure rats to a target, extinguish lanterns behind guards, etc) and the right timing to solve. I would've been satisfied with more rudimentary puzzle and stealth mechanics, but it's clear Asobo Studios was not. What really drove me through the game was the compelling story.
A Plague Tale: Innocence
tells a fantastic story that grips you right away and never lets go. Credit goes to the careful writing and talented performances behind Amicia and Hugo (note: I played in French with English subtitles for added immersion. Highly recommended). To put children in a game so inherently dark and violent is a risky choice. If the children seem too cavalier, the atmosphere deflates. If children aren't afraid of this world, why would we be afraid of it? Conversely, if the children cower at every shadow it becomes a chore to escort Hugo and the narrative falls apart if you no longer care about Hugo. But you do care about Hugo, and Amicia, who is doing her level best in an awful situation. You meet some allies along the way, too, and soon have a ragtag band of brave children focused on surviving, and maybe even solving, the plague.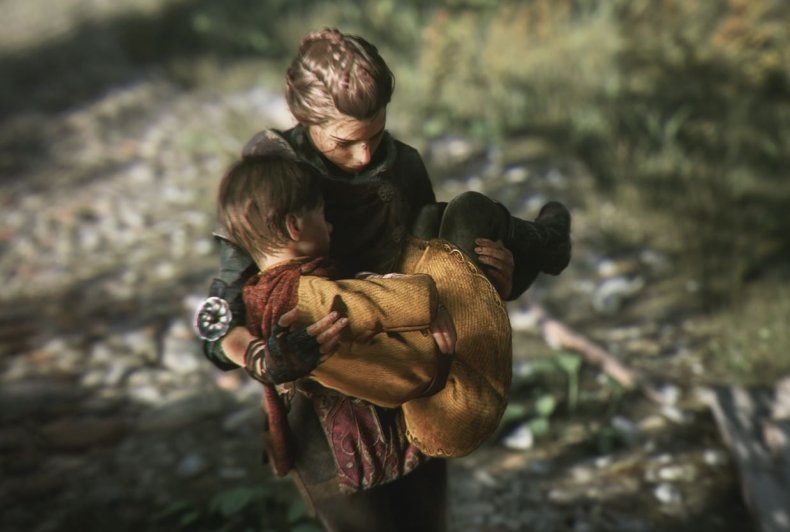 Every character's motivation makes sense, and so do their actions. Amicia is hesitant to harm guards at first, but as she learns more of the Inquisitions cruel tactics, she begins to savor the vengeance. Hugo is initially stunned at the loss of his mother, his home. Soon he adjusts to his new reality and begins to act out like a five year-old would. Even the ancillary characters, like the stone mason's burly son who bashes down doors or the alchemists apprentice who covets books, are written to be more than sideline tropes.
Plenty of games are fun, flashy and free, but as the medium evolves there needs to be a higher standard when it comes to what we consider the pinnacle achievements.
A Plague Tale: Innocence
from Asobo Studios is such a standard. A near-perfect single player experience it manages to drive the player through 20+ hours of gameplay in a world that is immersive and exciting. There are a few sequences that slow the game down, and it gets a bit too reliant on QTEs at key moments, but if you're looking for a single-player story that offers drama over destruction, then
A Plague Tale: Innocence
is a must-play.