Crackdown 3
has a lot of baggage. It's predecessor, the smash-hit
Crackdown 2
, came out nine years ago. Normally those kinds of development gaps are reserved for auteur projects like
Kingdom Hearts 3
or anything by Kojima.
Crackdown
, as a franchise, puts out a fast-food vibe. It's fun, it's simple and it shouldn't be taken too seriously. But a lot can happen in nine years, and the gaming landscape has undergone tectonic changes since 2010. A near-future cyberpunkish open world shooter may have been novel and gimmicky back then, but tastes and standards have changed. And while
Crackdown 3
offers a lot of fun, it assumes this recipe is still fresh. It isn't. Pair that with a prolonged development with more than a few false starts and a lot of fans aren't sure what to expect. I know I wasn't.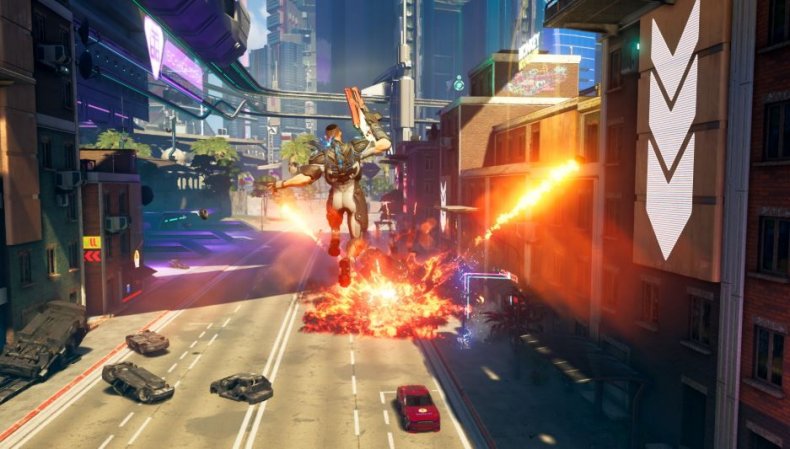 What I found inthe
Crackdown 3
campaign was a game that, in many respects, is a welcome departure from the "why so serious?" vibe of modern shooters.
Crackdown 3
offers the same aim assist mechanics familiar to those who play Rockstar titles, but the frenetic action and meta edgelord humor never let you take things too seriously. It also scales up rather nicely thanks to the series' trademark "kill for skill" progression system. Collecting colorful glowing XP orbs that tie directly to your actions is immensely satisfying and well-balanced. Shoot an enemy a few times and finish him with a punch and you'll get a mix of blue shooting XP and red melee XP.
Nowhere is this more evident than with Agility. You don't earn Agility in combat, but you gather these green orbs in hard-to-reach locations all over the map. Each map section offers a few dozen Agility orbs to find, and scouting for the green beacons from rooftops and pathfinding a route gave me serious
Assassin's Creed
style feels. Even better, traversal is directly impacted by your experience. You unlock things like double-jumps and dashes as your Agility skill increases. These are put to the test by way of immense propaganda towers, which you must scale and deactivate. The shifting platforms and fall away floors add a verticality challenge not found often in open world shooters. I had as much fun climbing as I did shooting. And shooting was a lot of fun.
Crackdown 3
is at it's best when it gets ludicrous. The gameplay loop is standard shooter fare. Go to Waypoint X, shoot a lot of things, sometimes a tough thing shows up that needs extra shootings. But in
Crackdown 3
the sheer volume of things to shoot can get insane. You'll have dozens of enemies on screen blasting away as you dodge and aim and blast. It manages to be tense and exciting without feeling overwhelming and unfair. An ever-increasing arsenal of stronger and more bombastic weapons adds to the fun. And when those bosses do show up they're never tedious bullet sponges. The encounters take a bit longer, but there's no grind here. A lot of variety in the enemy types helps, too.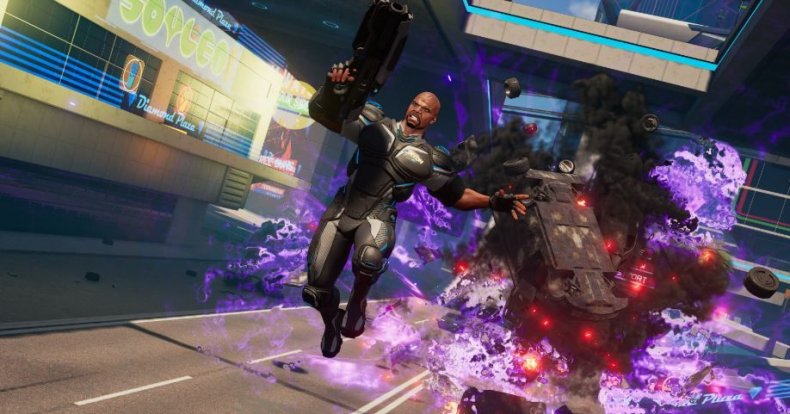 What
Crackdown 3
is missing is the level beyond solid shooting mechanics and the occasional chuckle. The writing has more misses than hits, and every genuinely funny moment (Terry Crews yelling "Fuck gravity!" while climbing is my fave) drowns in a sea of Mountain Dew-drenched gamer edginess. The story follows a trope-y dystopian oligarchy where corporations run everything until SOMEONE INSPIRES THE PEOPLE TO RISE UP! Guess who that is? That there is never any collateral reputation damage to your wanton and careless destruction (I started the game by killing civilians for a solid 10 minutes and nothing happened) is the early indication of a shallowness that undermines solid action fundamentals.
Crackdown 3
never elevates itself beyond the level of "fine." While the gunplay and traversal are satisfying, they take place in an open world that is both busy and lifeless. Civilians have no character, no personality. There are virtually no interior spaces, no stores or distractions to visit.
Crackdown 2
didn't exist in a world that knows
The Witcher 3
and
GTA V.
Crackdown 3
does, and suffers for it.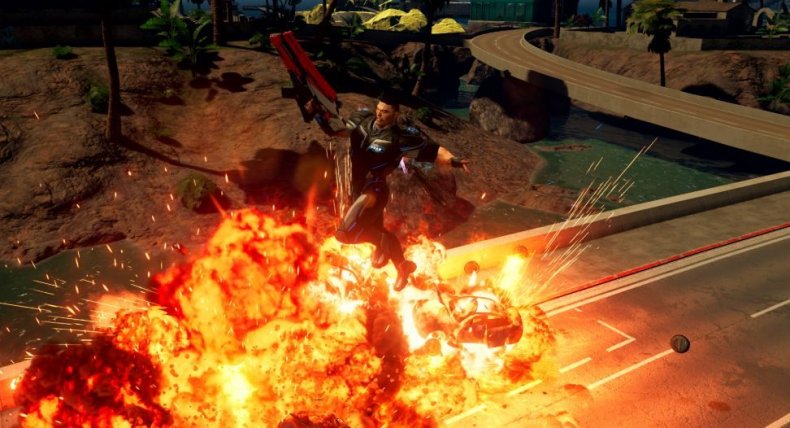 Also the driving is terrible. Vehicles handle like cold butter on stale bread. There is no sense of velocity or balance, and the game throws so many challenges and checkpoints and enemies at you the faster you move the more you feel you're missing. I had a lot more fun walking around from mayhem to mayhem than trying to drive anywhere, especially given how comically weak vehicles are compared to your OP hero.
Is
Crackdown 3
a bad game? No, it's not. It offers a nice contrast in a space full of games that take themselves too seriously. The humor falls flat, and the story sags, but if you want to run, gun and smash stuff then you'll have a good time. But the extended development time, and the utter lack of AAA-exclusives on Xbox, had me hoping for much more. What could've been a brilliant piece of satire or a hilarious over-the-top shooting spree fails at both. Add to that an open world that feels dreadfully dated and you're left with a game that is almost as good as it should've been.