Crash Bandicoot made a triumphant return with the release of
N. Sane Trilogy
in 2017. Now,
Crash Team Racing Nitro-Fueled
serves up a full remaster of the much-loved 90's kart game and blasts it off into high gear, with loads more to uncover and plenty of modes to conquer.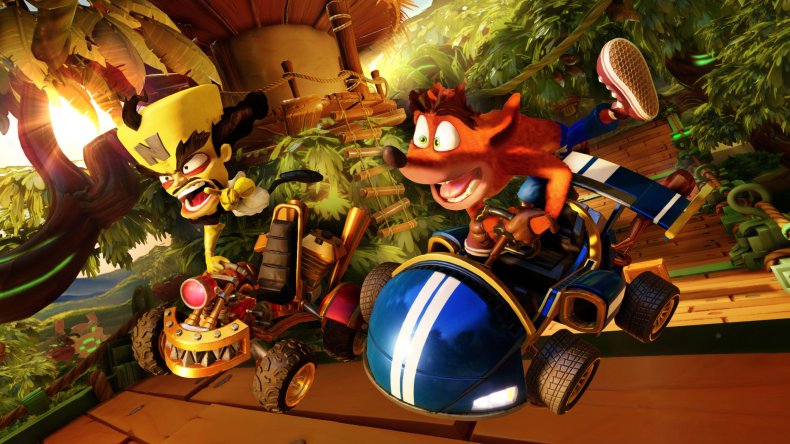 Deep customization features allow players to use stickers, decals and paint jobs give karts that extra touch of personality. N.Sane character skins influence racers' podium animations and can be won by playing Adventure Mode. As you progress through the story, characters and items will be unlocked. Collect as many Wumpa Coins as you can to spend in the Pit Stop by finishing high in the standings.
With 31 characters to unlock and eight to start, you will have plenty of choices behind the wheel. Each character has three base stats: Speed, Acceleration and Turn. Four handling types range from Beginner to Advanced.
Mastering the controls should come easily enough to anyone who's played the
Mario Kart
games or similar titles. Power sliding will become your best friend, but the button layout can make it a little tricky to pull off. Getting an extra boost is a key factor in this game. Thankfully, if you can't master the Turbo Boost right away, there are other options to gain a little speed, like Trick Jumping and Air Braking.
All tracks will include two types of Crates: Wumpa Crates and Power Up Crates. Collecting Wumpa Fruits will help you achieve maximum top speed. Wumpas can also be found randomly around some tracks. Keeping ten Wumpas on hand will take your power ups to the next level, making them 'Juiced Up!' However, each time you take a hit, you will lose some of your collected fruit. With a total of 11 different power ups, it's definitely better to have each one at full capacity. Smash the crates with a "?" on them to randomly receive a power up that you can use to achieve victory. From the preferred Tracking Missiles to Beakers and Power Shields, you will come to learn the proper time to use each weapon to its fullest.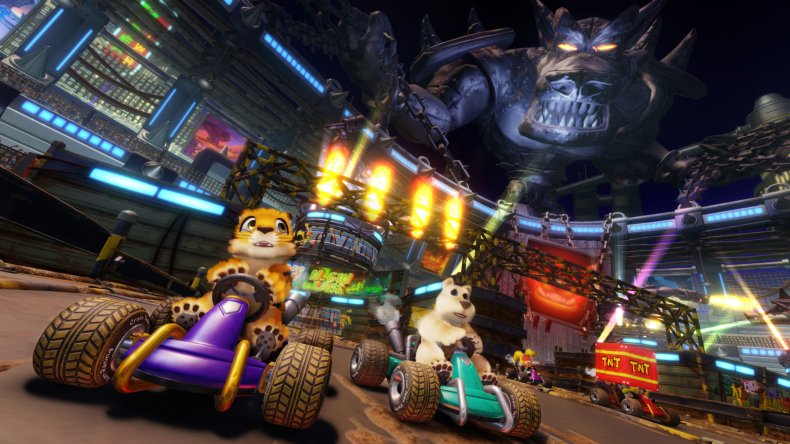 Crash Team Racing Nitro-Fueled
has loads of different game modes. Everything from
CTR
and
CNK
have returned and the game looks beautiful. If you want a great single player experience, then choose Adventure Mode. You challenge Nitros Oxide, an evil alien who wants to turn earth into a parking lot. Come in first place to win trophies among five hub worlds that split up a series of races. Each trophy won unlocks a new track and, you can replay tracks to earn relics and gems to spend on characters, skins, karts, and especially more Wumpa Coins.
Crash Team Racing
also offers a ton of multiplayer gameplay. Single Race is self-explanatory. Pick your racer, select any track and the number of laps, difficulty, and even a mirror mode. If you're impatient and just want to race, then select Cups to compete in a series of four different races to earn the most points.
CTR Challenges and Crystal Challenges provide an added layer of difficulty. For CTR, you must cross the finish line in 1st place as well as having collected each of the three letters "C", "T", and "R" that are hidden on a track. Crystal Challenges require you to collect every single crystal on each track. This mode also requires some hunting and gathering techniques before you really go in and try to complete. This early exploration will help you discover track secrets and shortcuts that you can use to dominate in other modes.
Battling modes give you the chance to crush your friends in a variety of ways. Limit Battle is the basic battle mode where you must defeat your opponent with power ups. . There's a basic capture the flag mode, and one called Steal the Bacon that ramps up the pace by providing a single flag to capture. Last Kart Standing is a battle mode with limited lives, and. Crystal Grab determines the winner by whomever crosses the finish line with the most crystals collected.
Up to eight racers can compete online to tackle the leaderboards via the online multiplayer matchmaking, a series first. Players choose between classic race mode or battle mode then vote on the map.
Crash Team Racing Nitro-Fueled
is loaded with so many options and ways to play that it will keep you entertained for a long time. The Adventure Mode alone will keep you busy, especially if you're a purist who completes every challenge. Within multiplayer, you may find yourself playing one mode more often. Capture the Flag tends to have longer matches, but you can never go wrong with a classic Limit Battle.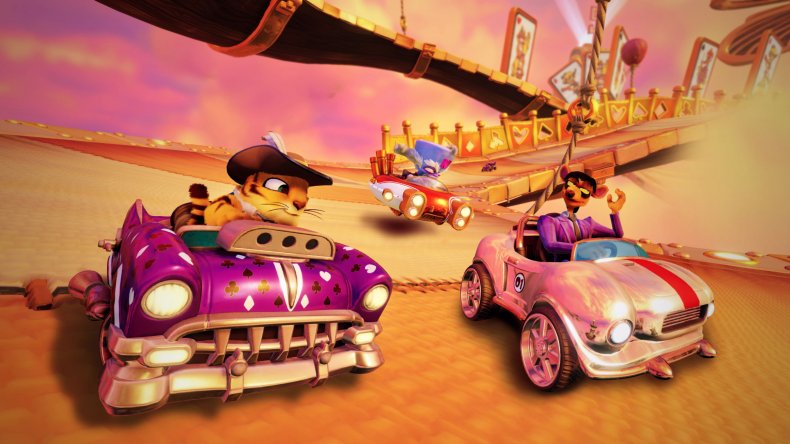 Crash Team Racing
also has some rough edges. Gameplay comes naturally, but mastering the Turbo boost quickly will be difficult even for an advanced player. It takes practice to find the proper timing for chaining Turbo boosts. The UI isn't perfect either, having the Turbo meter at the bottom of the screen can distract from the race. The wait times in between matches are really long. In regards to the Nintendo Switch version, the load times were unbearable. Nothing worse than winning a match only to wait and wait to be taken to the winner's circle for a special animation of your character celebrating. The addition of the Pit Stop and the kart customization is nice which will encourage you to keep playing to unlock every possible item. It's a missed opportunity that the different wheels and karts do not affect your characters Driving Class.
CTR
is a kart racer that keeps you guessing with its explosive antics and zany gameplay. But long load times and tricky controls can put the brakes on the fun right away. You will have to spend a little more time with this racer, really digging into the levels to unlock and explore even more ways to play and defeat your friends.
Crash Team Racing Nitro-Fueled
is available June 21, 2019 on PS4, PS4 Pro, Xbox One, and Nintendo Switch.