NetherRealm Studios continues to push the envelope for what fighting games can do with
Mortal Kombat 11,
the latest in the longstanding series.
Since its announcement last year,
Mortal Kombat 11
has become one of the most highly anticipated games of 2019. Its hyper-realistic visuals and cinematic story promise to appeal to both casual and hardcore gamers while its gameplay changes freshen up the fighting enough to give new layers of strategy and difficulty.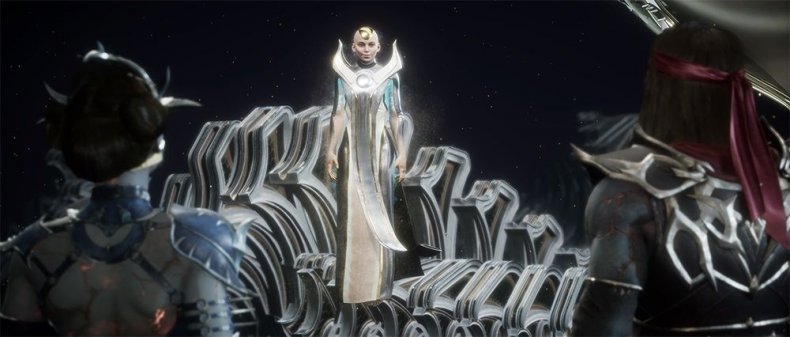 STORY
Throughout its history, NetherRealm has reinvented the fighting game genre with a focus on cinematic and engaging storylines. Going back to
MK9
, the franchise really began to streamline its lore and history and
MK11
continues to do the same.
Not going to get into spoiler territory, but if you're familiar with the
Mortal Kombat/Injustice
structure of storytelling you're going to get more of the same. You'll be forced to play as a particular character (or in some cases between two) during a chapter as you try and stop the villain Kronika from enacting her evil plan.
However, unlike
Mortal Kombat X
there are no quick-time events so the story is a mix of cutscenes and fights. I appreciated not having the quick-time events this time. I could just sit back and enjoy the cinematic cutscenes especially with the characters showing more of their personality than in previous installments. Some characters like Kotal Kahn and Jade also received some much-needed background on their personalities and motivations.
Mortal Kombat 11
's story wraps up the threads that began in
MK9
and pushes the franchise into a new and uncertain future. I'm very interested to see where NetherRealm takes the franchise after this story.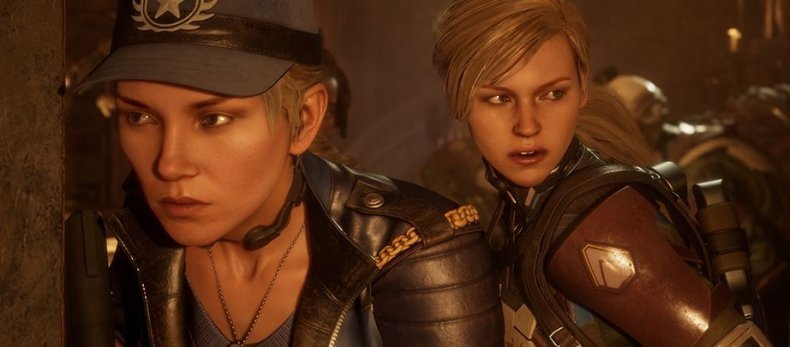 CONTENT
Aside from the story mode there's a lot to do in
Mortal Kombat 11.
The arcade-style Klassic Towers return as players can take each character on the roster into a series of fights. Each fighter gets a unique story for defeating Kronika in the Klassic Tower, further fleshing out their characters and giving "what if?" scenarios.
Towers of Time offer more ladder-style fights but with a twist. Each Tower has their own special gimmicks that offer more challenges. Some fights have projectiles thrown at you throughout the match while others give your opponent stronger attacks. To combat this, players can use Konsumables that offer buffs for yourself to counteract the gimmicks involved in these battles. These are obtained as drops after fights in every mode in the game. The difficulty of these battles are no joke, so don't be stingy about using the Konsumables.
Some of the Towers of Time are timed events that swap out with different towers in a revolving door of new fights to complete. This definitely increases replayability and incentivizes players going back for more especially when the rewards are new gear and augments to power-up your fighters.
Those are the main modes of gameplay in
MK11
, but there are a couple of other features players can use.
The Online is simple enough and offers various ways to play. Players can go into a more causal online experience while there are Ranked matches for those looking to really test their skills. A Tournament mode will be available for when they go live and being able to set up local online rooms to fight friends is an option. You can even spar a friend online without the constraints of an actual match.
AI Battles lets players create a team of three fighters to take on another player's team in simulated fights. This gives daily rewards and is a useful tool in grinding Koins and other resources.
Koins and other resources are needed for the Krypt a place where players can travel and unlock chests of treasures. You can unlock Fatalities, Brutalities, new gear, augments, concept art and more. The Krypt was always one of the cooler aspects of Mortal Kombat in the past as it gives a sense of achievement for the amount of time you are bound to put into the game.
However, my one gripe is how grindy
Mortal
Kombat
11
feels. From collecting Koins to unlock chests in the Krypt to finding gear, augments and Konsumables it feels like a chore, especially when you are trying to get everything in the Krypt. For example, the Hearts you get are needed to unlock special Shao Kahn chests in the Krypt. They are only obtainable through rewards in the towers or by performing Brutalities and Fatalities in battle. You receive one heart for a Fatality and two for a Brutality but when a chest is asking for 250? You can see how that can get grindy. Even with the Time Tower rewards players will have to constantly check-in to beat towers to get all the gear. If you want to get everything you can, you'll have to put a lot of time into
MK11
which isn't the worst thing considering how good the gameplay but if you don't have the time you'll feel like you are missing out.
GAMEPLAY
If you're familiar with
Mortal Kombat X
you're in luck as the control scheme remains the same. However, there are new elements to the fighting that add a lot of strategy.
The first are Crushing and Fatal Blows. Crushing Blows happen during a match after your character performs an attack under specific conditions. Each fighter has their own special Crushing Blow conditions and some are general across every fighter. One example is the first uppercut that lands when your opponent goes for an attack. These Crushing Blows deliver more damage than usual and can juggle an enemy in the air, leaving them open for combos.
Fatal Blows are a cinematic combo sequence activated when your health is at 30 percent. By pressing L2 + R2, the attack is a perfect comeback move. However, once it lands once you won't be able to do it again for the rest of the rounds so use it wisely.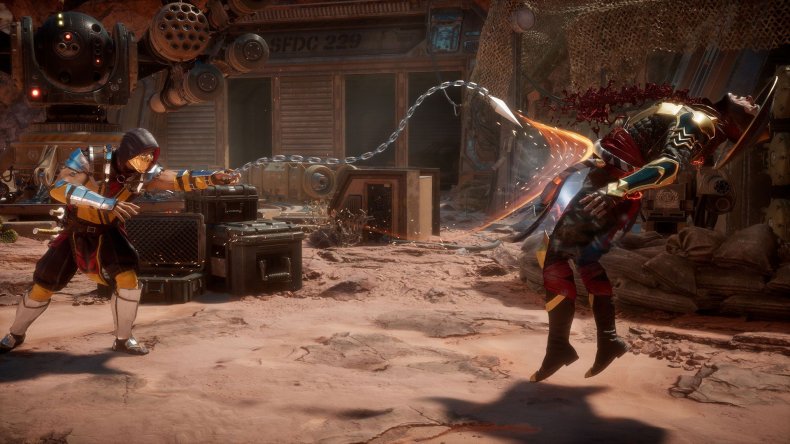 The meter used to amplify specials in
MKX
is now split between Offense and Defense. Offensive meter amplifies specials, giving them more damage or new properties like launching multiple projectiles, while Defensive meter is used to interact with the environment, rolling away from an opponent or disrupting combos. Both are important to fighting in
MK11
and offer more strategy than
MKX,
especially the combo disruption. In a game that's so dependent on combos and keeping the opponent in the air, being able to roll out of it to try and make a comeback is the most important.
Thankfully, the tutorials are very useful. They rundown every aspect of fighting and teach casuals about frame data, applying pressure, positioning and how hardcore gamers use these things to their advantage. I only wish the character-specific tutorials went more in-depth on how to chain combos and specials together.
Mortal Kombat 11
's roster is a good mix of fighters. You have your close-range and long-range characters and they all feel unique. Although it seems the "zoners" and characters with warping abilities will dominate the meta, it's still too early to tell. The new characters offer something for players to discover. While the absence of franchise staples like Mileena and Reptile are a downer for those who enjoy them, the base roster is strong and fans of the franchise will be happy with them.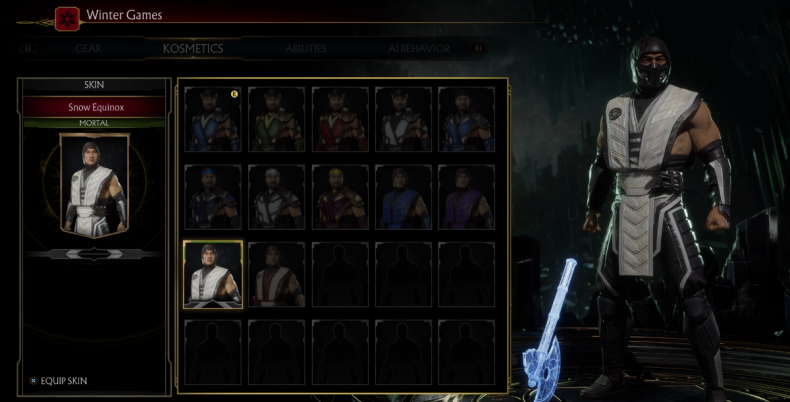 A new custom character system gives players more options for their favorite fighters. Players will be able to customize how fighters look with the gear that's dropped during fights or won in Towers or in the Krypt. Use the gear enough and you'll open up augment slots that let you equip different buffs and abilities. This adds to the grind of
MK11
. Like everything else, Augments can be earned as drops, rewards or in the Krypt and can help increase the strength of certain attacks or even increase the amount of Koins dropped. It's great to mix and match and find the perfect combination of gear and Augments, however, once you've equipped one you'll need to drop some Koins to re-slot them which is a tad annoying. Thankfully it's pretty cheap to do, just 1000 Koins.
Every fighter comes with a menu of special attacks they can use. While only three slots are available, some moves are so powerful they can take two or even three slots. Find the ones that match your playstyle and get to fighting. It's just a shame that custom characters won't be tournament legal.
VERDICT
Mortal Kombat 11
is a gorgeous, fun and enthralling fighting game experience that will be hard to match this year. The story continues NetherRealm's streak of upping what fighting games can do while the amount of single-player content will give players plenty to do.
While the grinding aspects for resources to unlock treasures in the Krypt are tedious and a tad obnoxious, it doesn't detract from an overall great fighting game experience that casuals and hardcore fans will enjoy.