The Nintendo Wii U may not have had the deepest game library, but there were some true gems on that console. That includes 2012's
New Super Mario Bros. U.
Seven years later, and Nintendo is using the Switch to revive the classic 2D platformer in a souped-up version called
New Super Mario Bros. U Deluxe
. Complete with the
Super Luigi Bros. U
DLC, Switch owners are given a ton of gameplay and co-op that offers hours of fun.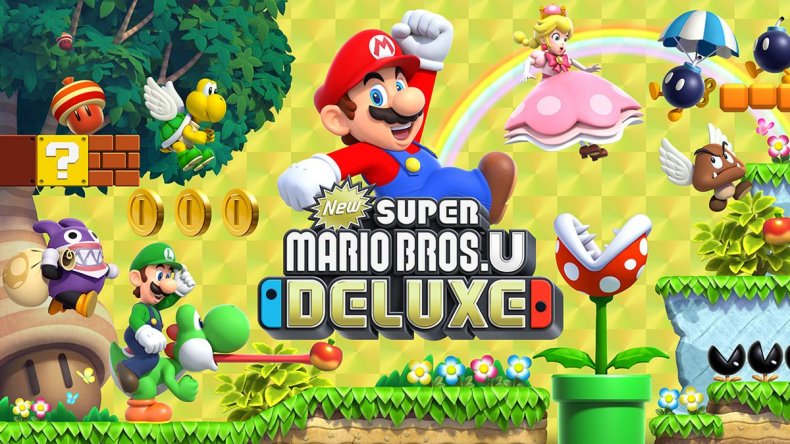 New Super Mario Bros. U Deluxe
brings the classic platforming
Super Mario
games are known for. Each well-made stage is uniquely designed, and offer an increasing difficulty curve that tests gamers platforming skills without getting too hard.
There are power-ups and secret areas that make it fun to explore every inch of each stage. Players will get hours of gameplay going through the story mode and trying to find every Star Coin to get that coveted 100 percent completion.
Anyone who played the Wii U version of
New Super Mario Bros. U
will remember the sometimes frustrating skidding mechanics. While jumps are precise, when holding the dash button your character will slide once they land which can lead to some frustrating falls, especially during boss fights. It takes some getting used to, but you learn when and when not to use your dash. But if you still have a problem with the sliding and platforming, the two new characters may be the solution.
Toadette and Nabbit can be used in the main game mode, and both offer younger or inexperienced players, and those looking for a more casual experience the same fun without the stress.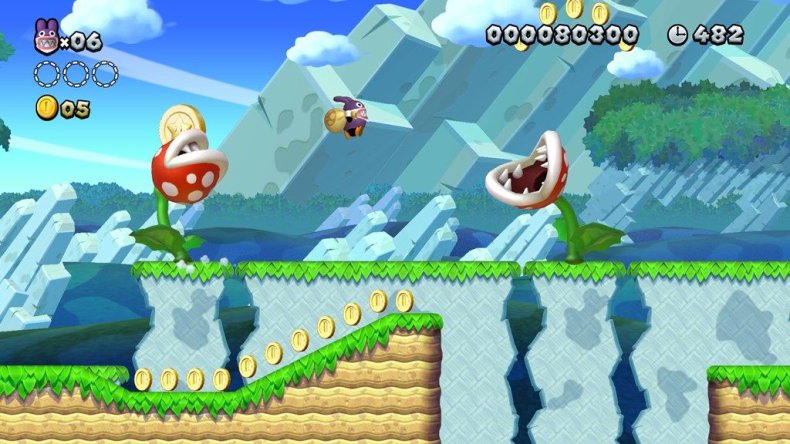 Nabbit makes his return from the
New Super Luigi U
expansion, but can now be used in the main story. He doesn't take damage from enemies, but can still fall to his doom. This offers up a great way to practice your platforming without fearing be hurt.
But if you want an easier experience, Toadette is the choice. By grabbing the mushroom power-up, Toadette will transform into Peachette and become practically invincible. Peachette can glide through the air, similar to the flying squirrel power-up in the game, and even perform a second jump in midair for easier access to secret areas and hard-to-reach pipes. Even falling into pits won't take Peachette down, as she'll perform a bounce to get out automatically.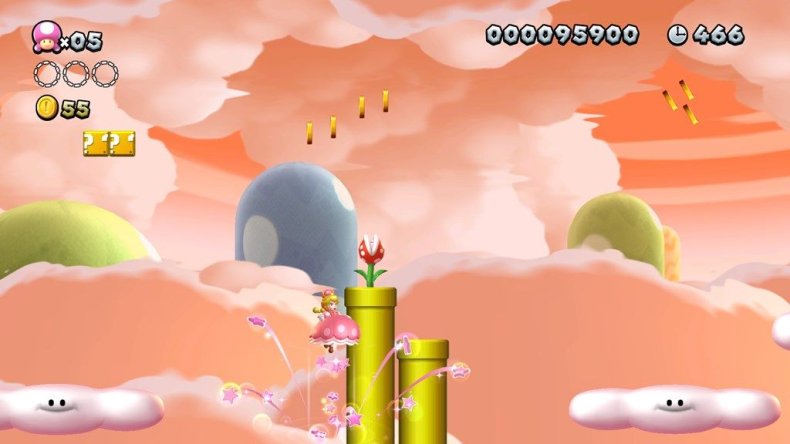 In
New Super Luigi U
, players are treated to more courses that will test your inner speedrunner. You'll have only 100 seconds to complete these grueling stages as Luigi, who has extra height on his jumps but is more prone to skidding. It's a great test of platforming and it's all included in
New Super Mario Bros. U Deluxe.
There's more than 160 courses to play, including multiplayer coin battles that pits players in a fight to collect the most coins. Players are even able to create their own custom coin stages.
There's no doubt that
New Super Mario Bros. U Deluxe
is a great port that has come to the Nintendo Switch. And while this version offers all the DLC and content from the game's previous lifecycle, it fails to stand out on a console that has some killer platformers to begin with, like
Donkey Kong Country: Tropical Freeze
.
The $60 price tag is a little off-putting considering its a seven-year-old port. A cheaper price point like $50 could have gone a long way. With that said,
New Super Mario Bros. U Deluxe
still offers a fun co-op, platforming experience anywhere you go, while giving all the bells and whistles that made it one of the best on the Wii U.