The original
Super Mario Maker
for the Nintendo Wii U was a great idea executed almost to perfection. So when the sequel was announced, I was excited to see what improvements Nintendo and the Mario Maker team could cook up, and I was not disappointed.
Not only was a ton of single-player content added,one of my biggest criticisms of the original, but the amount of tools and additions has made
Super Mario Maker 2
the best Nintendo game of the year so far.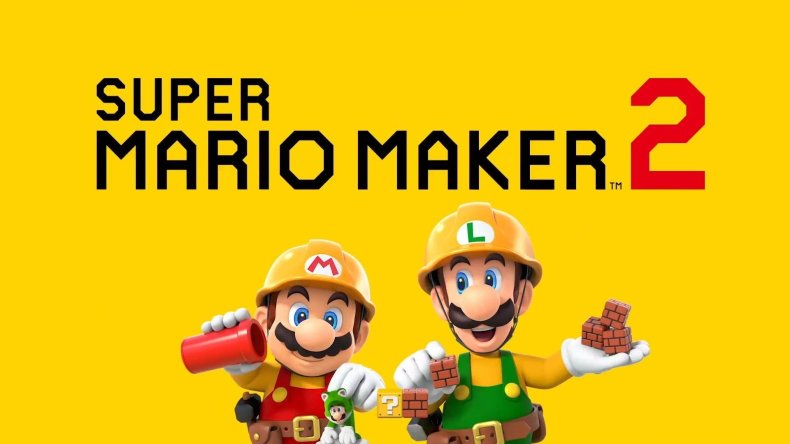 STORY MODE
Mario Maker 2
's story mode is simple. Undodog accidentally destroys Peach's Castle and it's up to Mario and the Toads to rebuild it. However, you'll need to complete levels and earn coins to pay for the repairs.
These professionally made levels are created by the
Mario Maker
team. With increasing difficulty, it's a great challenge for newcomers and experienced players alike, but I found the story mode to be a perfect jumping on point to learn about the new additions to the game.
Stages that incorporate the new night mode, or the new slopes, are plentiful. They really give players an understanding of how they should be used.
The
Mario Maker 2
story mode isn't going to set the world of single-player games on fire, but as a learning tool it's one of the best. And it's fun as hell.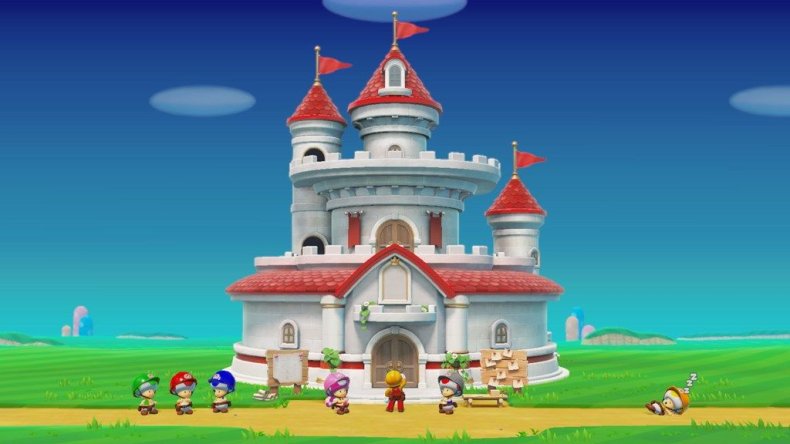 STAGE CREATION
The meat of
Super Mario Maker 2
is the stage creation feature. While the original didn't hook me on the stage building aspects of the game - mostly because of the tools being locked behind daily log-ins and the Wii U's clunky controller - the sequel has me WANTING to create stages.
Having every tool, aside from a few exceptions, unlocked from the start really encourages the building process. The new additions give players the almost-full experience of creating a Mario level.
Slopes are a game-changer in
Mario Maker 2
. I've seen myself using the new building tool to create roller coaster-esque stages and the new night mode allows for even more customization of tools and levels. Certain stages in night mode will have Mario exploring upside down and even changes how enemies act.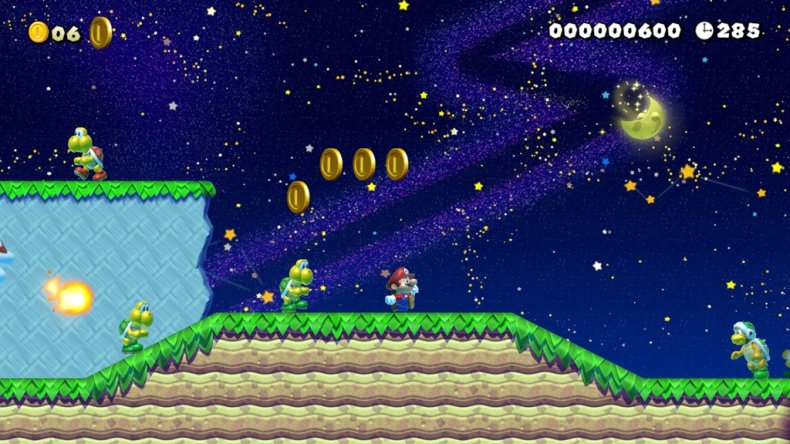 While adding the
Super Mario
games from the Wii U era brings a lot more stage-building options in wonderful 3D.
The addition of clear conditions is also a game-changer. Now players can create levels that force others to collect a certain number of coins, defeat enemies or try and get to the end without getting hit. There's also the clear condition of not touching the ground once you've jumped, which is dastardly and ingenious at the same time.
Players can create levels with the Switch docked using a controller or in handheld mode using the touchscreen.
When I first played
Mario Maker 2
during a preview event, I was turned off by how creating levels with a controller felt. It wasn't that intuitive and led to way more button inputs than I felt it should have. But after more time with it, I enjoyed using the controller and building on a television screen rather than the Switch's own screen.
Creating in handheld mode is still great though. The touchscreen works amazingly well and while using your finger to drag enemies and items around is easy, a stylus would be preferable. Too bad Nintendo didn't sell one outside of Japan.
SINGLE-PLAYER AND ONLINE
Aside from the story mode,
Super Mario Maker 2
also has some enjoyable single-player content. The most notable is the Endless Challenge that replaces the 100-Level Challenge from the original game.
Now players can take on player-created stage after stage until they finally get a game over. This is a great way to see the other stages created by players while also receiving a challenge. It's a lot of fun because you're not sure what kind of level you'll get. One level can be an auto-run stage, while the next is an intense boss battle level. The Endless Challenge will definitely put your skills to the test.
The Coursebot feature allows for easy saving, loading and upload options. You can also search courses based on certain criteria like length and style of game. You can rate, comment and save levels you find to Coursebot to play solo or in local multiplayer.
Multiplayer is another great addition to
Mario Maker 2
. Players can now enjoy local co-op and versus playing your own or others stages. It adds another wrinkle to how you build your levels too, as you can create stages strictly to test players' teamwork or pit them against each other.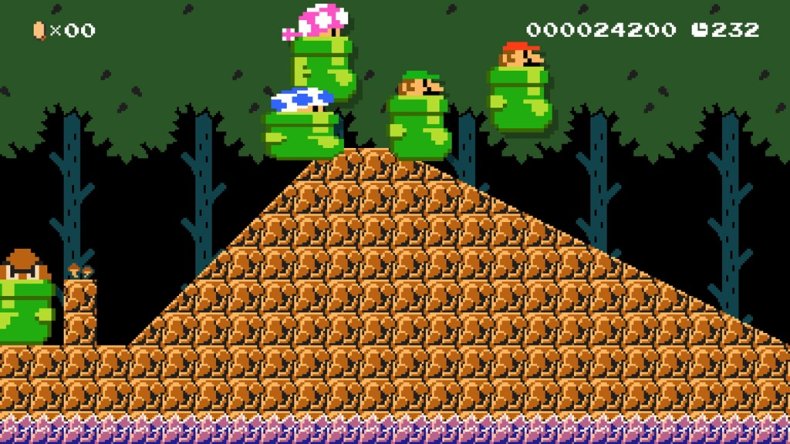 While playing with friends is currently relegated to local play, an update to allow online play is coming soon.
And now it's time to talk about the online functionality of
Super Mario Maker 2
. To be frank, it's not good. There's too many times where I'm playing against random people in stages and the screen freezes or we are all moving like snails. The option to play against others online is great, but I find myself not wanting to even try because of how bad the online is.
The performance of online in
Mario Maker 2
is bad enough, but knowing that you're paying for this service just ruins what could be an amazing part of the game. When the update to play friends online comes, hopefully they can fix the netcode. In the meantime I suggest that anyone looking to play multiplayer or versus should do it locally.
VERDICT
Super Mario Maker 2
enhances everything that made the original great. New building features like slopes, night mode and clear conditions allows for a greater variety of stages.
The story mode and Endless Challenge are great single-player experiences while teaching and inspiring future stages to be built. And while the multiplayer and versus features are amazing additions, playing online simply doesn't work consistently to recommend doing it often.
Despite the online hiccups,
Super Mario Maker 2
is the frontrunner for best Nintendo game of 2019.