Travis Strikes Again
is the first game in the
No More Heroes
franchise to be released in more than eight years. Grasshopper Manufacture worked on this bad boy for years, adapting the M-rated gameplay and humor of the series for the Nintendo Switch. This was my first time playing a game in the series since my mom was very strict about not letting me near any of the "rated M for Mature" games that were actually fun. Even without any context as to the world Travis lives in (and assassinates), this game is an absolute blast from start to finish.
In
Travis Strikes Again
you take control of either the titular Travis or Bad Man, the father of a girl Travis assassinated years ago. The pair get sucked into the Death Drive Mark II, a virtual reality console made by Dr. Juvenile that's cursed every developer and player who's tried to work with the thing. There were only six games made for the device and when all of them have been brought together, you can make any wish. It's like
Dragon Ball
, but with way more dick and pee jokes.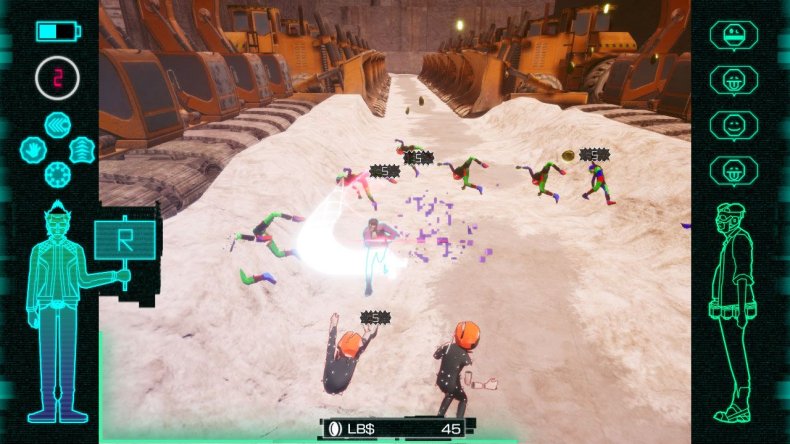 Travis
has basic local co-op, where each player can get a full experience with just one Joy-Con. Levels are easier when done with two people, but completing the game by yourself is completely doable.
There are also t-shirts you can dress up Travis and Bad Man in representing dozens of indie games. You can show your love for
Undertale, Papers, Please
and countless others while you murder everything in sight. Some cost gold that can be picked up throughout the maps, while others need special "Azteca Coins" which can be hidden in unique locals.
The basic gameplay of each stage has you entering a game and slaughtering dozens of "bug" enemies.They range from simple skulls that shoot bullets to mini-boss Sheepmen that are a human body with a full sheep corpse glued where their head should be. Depending on the difficulty, these fights can be an utter breeze or a test of your mental fortitude. Some of the later boss fights are ridiculous, there's something surreal about fighting a sumo wrestler turned bodyguard turned racecar driver.
Combat is easy to learn, but hard to master. You have a blade that you can swing with a light or heavy attack that needs to be recharged once it's out of energy. You can do this by holding down the left stick and shaking your Joycon up and down or by moving the right stick side to side. The mechanic is great on paper, but the Switch's analog buttons can be a bit imprecise, making it hard to charge your blade in the middle of a tough team fight.
To supplement your electric stick or baseball bat, you have access to an array of ability chips that can be found throughout the Death Drive games. They can heal you, throw enemies like rag dolls or summon giant laser beams that evaporate enemies caught in their fire. There's a huge level of strategy to this game; you can't just run in guns ablazing and hope that you'll survive the level.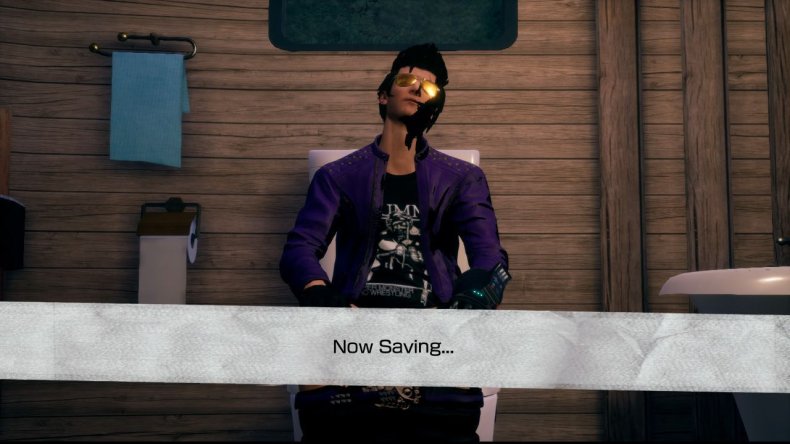 The humor of
Travis Strikes Again
can be infantile at times, but is overall well-written and engaging. I laughed out loud at more scenes in this game than any game released in the past few years. If you aren't into meta video game humor and gross-outs, this might not be the game for you. When you need to save, you go to the toilet and sit down to pee. Get ready to see a lot of Travis' glistening thighs and hear happy sighs while he drains his bladder.
After you complete a Death Drive game, the game transitions into a green-tinted text adventure that brings you around the world. Travis is joined by Jeane, his anime dog companion that quips throughout the whole adventure. This game is very weird.
Travis Strikes Again
pokes fun at itself, making multiple jokes about how cheap and uninspired having most of the travel and action be represented in world bubbles. In these text adventures, you'll encounter dozens of video game easter eggs from
The Legend of Zelda, Diablo
and even
Mappy
. It's a love letter to games of the past, with multiple minigames being inspired by the traditional arcades.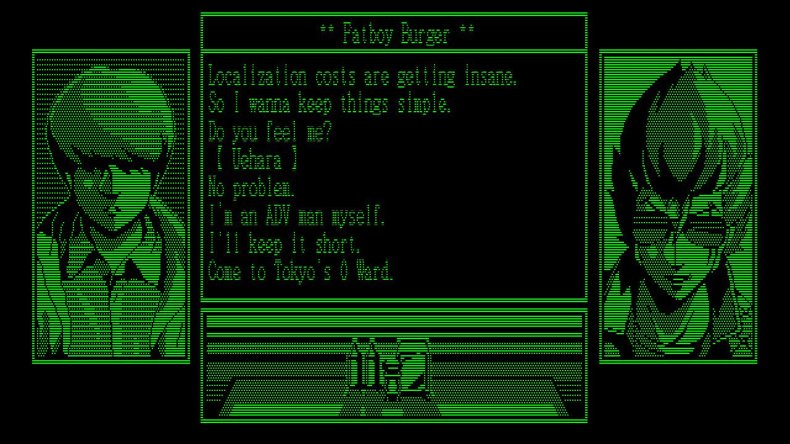 I play a lot of smaller games on the Switch, but
Travis Strikes Again
is the only one I've finished. The story is captivating, the gameplay is addicting and the humor appeals to the edgelord in my heart. The game has a few technical issue and can lag on some of it's larger stages, but that's not enough reason to skip it. If you are looking for a
Diablo
-inspired beat-em-up that isn't afraid to call itself out, this game is for you.
Travis Strikes Again: No More Heroes
releases on January 18 on the Nintendo Switch.