I've had a pretty bad week, but
Trover Saves the Universe
still managed to make me laugh. The newest and most hyped game from Justin Roiland and his studio Squanch Games brings players to a far off universe, where eyeball-less chickens are gods. Travel through the cosmos as "chairorpian" and control Trover, a purple light-saber wielder who has an addiction to power babies, as you defeat the corrupt Glorkon who has your dogs in his eyes. The game is as ridiculous as it sounds. As long as you aren't looking for a serious, somber time, this is a perfect game for you.
Trover Saves The Universe Saves VR (But Doesn't Need It)
Trover Saves the Universe
started off development as a virtual reality game, but quickly evolved into something else. I tried messing around with the PSVR headset, but I found the game was much easier to play with just a PS4 controller. Your character, the "chairorpian" can't actually move in the beginning of the game and is only able to input commands on the controller. Once you meet Trover, you'll be able to control him with the left analog stick and face buttons, allowing you to teleport to warp nodes around the map to defeat enemies and complete puzzles.
Comedy is the selling point of Trover. Every weird character you meet has dozens of voice lines that move the plot along or are just plain freaking weird. Roiland, who helped co-create the wildly successful
Rick and Morty
television series, goes wild voicing most of the game's characters. He recorded most of the dialogue by just riffing and having fun, which is apparent while you're playing. Some lines of dialogue that trail off into Roiland's laughter and were still kept in the final product. My favorite VO belonged to comedian Doug Benson, though I won't ruin where he shows up.
'Trover Saves the Universe' Could Definitely Be Part of 'Rick and Morty,' Says Justin Roiland
Justin Roiland's humor will pull you in, but the atmosphere and smooth platforming will make you stay. Each level looks gorgeous, with strong colors dominating the vistas of worlds made of goo, flesh and metal. Power babies, tiny creatures that serve as the game's main collectible, are littered around the map and can be hidden in the oddest locations. If you just run through the levels, you'll miss out on potential power-ups and a special reward if you collect them all.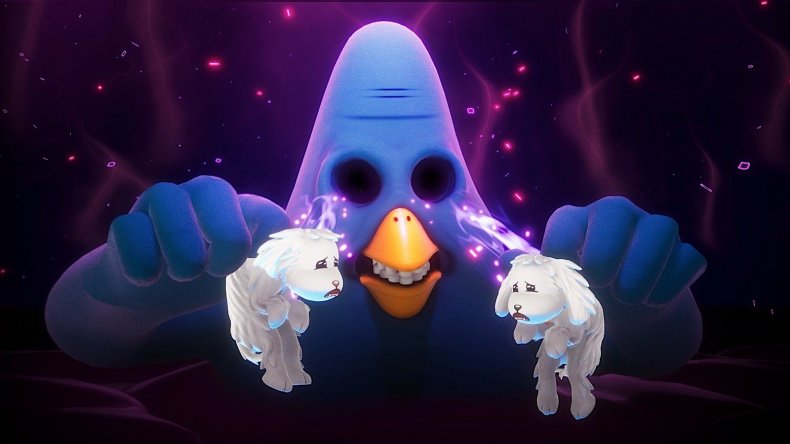 Trover Saves the Universe
is only eight hours long, but priced at $29.99. In an interview at PAX East Roiland said that there are more than 20 hours of dialogue in the game but some lines are incredibly hard to find. There is obvious replayability if you want to hear all the dialogue, but I didn't have any desire to replay again. It also ends on a fairly lackluster note, with the payoff of your adventure falling short.
Still, with those minor caveats,
Trover Saves the Universe
is a fun ass game. With all the "grim dark seriousness" that plagues modern AAA titles, it's nice to pick up a game where the main character isn't afraid to talk about friendship, power and farts.
Trover Saves the Universe
releases on May 31 on PlayStation 4 and June 4 on PC.