Wargroove
is the latest release from indie powerhouse Chucklefish, best known for their work on titles like
Starbound
and
Stardew Valley
. If you're familiar with those megahits then you have some sense of the aesthetics on offer in
Wargroove
- charming pixelated sprites and a soothing, ambient soundtrack. And if you insist on defining the nostalgia look through the lens of nostalgia treasures,
Wargroove
is
Advance Wars,
basically. But like
Stardew Valley's
reinvigorating take on the
Harvest Moon
formula,
Wargroove
is more than just a "spiritual successor" (a term that needs to die btw).
If you're not familiar with
Advance Wars,
you're likely familiar with the genre - turn-based strategy.
Wargroove
has a syrupy sweet vibe but don't be fooled. It is brutal and unflinching. It offers enough tools to make battles fair, but doesn't offer anything that gives you an edge. I'm a filthy save-scummer, so when I realized I couldn't save during battles I crumbled. This was going to be hard.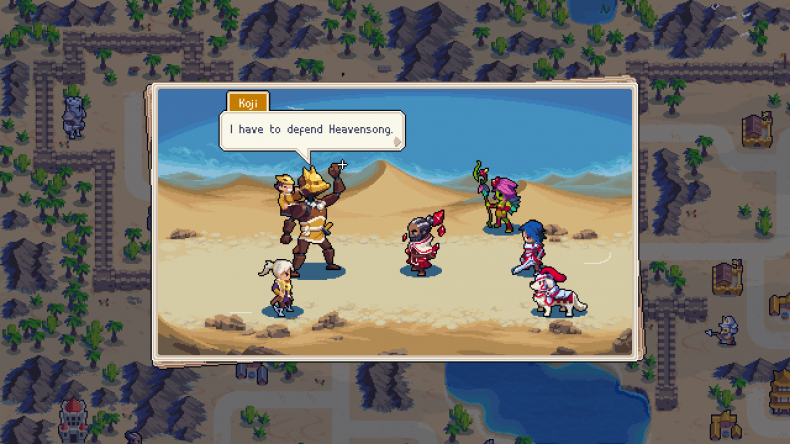 I'm also a longtime
Fire Emblem
fan, and while
Wargroove
has a lot of overlap in terms of aesthetic and rock-paper-scissor combat mechanics (guys with spears are good against cavalry, cavalry are good against archers, archers are good against guys with spears, etc) it offers none of the customization or progression. And I mean NONE. There is no equipment or XP waiting to reward you after a challenging side mission. No min/max loadouts you can do to help you on a tough mission. For better or worse, your army in the first battle is the same as your army in the last.
Mostly, I found this to be "for better." My initial disappointment that
Wargroove
didn't let me save scum like
XCOM
or fall into a management rabbit hole like
Fire Emblem
gave way to an earnest appreciation for a new kind of challenge. And, because I played on Switch, I didn't feel so tethered to long 20+-turn battles the way I would've on PC. I couldn't save my progress, but I could pause and pick up a battle again at my leisure.
The progression that exists in
Wargroove
is tied to unit types. As you advance in the game more specialized units will become available. You start out with basic footsoldiers but soon you'll have flying units, naval units, healers etc. It does an impeccable job of introducing tutorials during battles so you learn how to use these new units in real-time. Every faction has the same types of units, with the same stats and critical hit conditions. Most of these requirements are based on position, spearmen who are side-by-side get a critical buff, for example.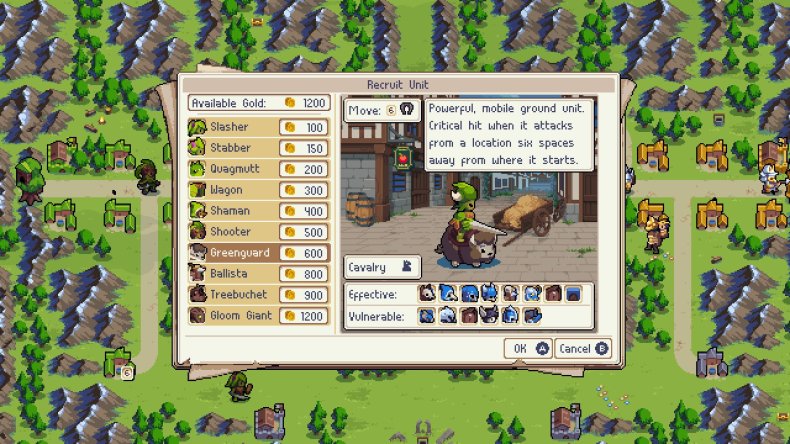 Only Commanders, the de facto battlefield leaders, are different. They range from the stoic warrior-mage Emeric to the loathsome Floran assassin Sledge to Caesar, a dog in armor who is a very, very good boy. Once your Commander's Groove a.k.a. special move is charged (through a combo of turns+kills) you'll be able to do things like give units an extra action, cast an AoE defense buff or critical strike your foes. They also have way more strength than standard units and can hold their own guarding a bridge or charging into a scrum.
Wargroove
is, ultimately, going to live or die by the combat. Based on my time with the game (20ish hours) it's going to live a long, long time. Battles consistently felt pitched, tense and winnable. No matter how often I lost, I never lost hope. Nothing feels random or cheap, which is high praise for a turn-based game. Every mistake is 100 percent my fault and every victory is 100 percent my triumph. The AI is well-balanced and rarely makes an unpredictable or stupid move. If you like your turn-based combat to feel like chess, you'll love
Wargroove
. There's really no gimmicks or tricks to the fighting; it's just good positioning and smart counters. Keep your archers in the back, your pikemen in the front, and double-check the sight lines for trebuchets.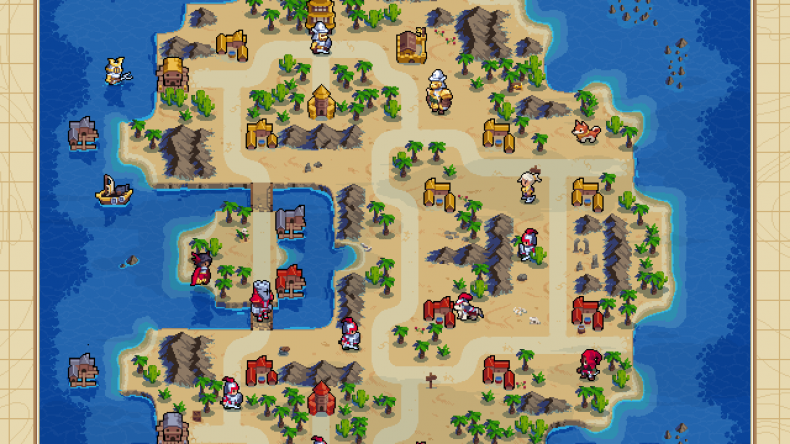 Wargroove
also offers a bevy of additional game modes that go above and beyond what you'd expect for a game already offering a solid 30+ hour campaign. Arcade mode puts you in charge of specific battle scenarios. These little mini-events play out with as much complexity as anything in the campaign, and there's a lot of them. Puzzle mode is a heightened challenge, you get one turn to eliminate all the enemies on a battlefield. If you're struggling with your offense in the campaign, this mode can be a boot camp for the basics. There's multiplayer, local co-op and user-generated maps and campaigns. A thriving community could add years to
Wargroove
, and early signs point to major enthusiasm.
I'm enthusiastic myself.
Wargroove
is a fantastic strategy title with far more content than fans are used to getting these days. It has dozens of hours of potential gameplay tucked away underneath a robust campaign that's engaging and aesthetically serene. Clever writing and cute cutscenes propel players along, and anyone who can't commit to a full campaign will find plenty of distraction in the extra features. Get your
Wargroove
on!